Use Your Library
Studies have proven that academic scores at schools go up where a strong library media program is present. The staff at Sierra Vista Jr. High recognizes this through its efforts to teach information literacy skills and to provide a variety of literacy programs. Students are taught to effectively access, evaluate and use information. It is hoped that they will become lifelong learners!

Each day there is a 15 minute period of silent sustained reading called R.E.L.A.X. (Read, Enjoy, Learn and Explore). Students are encouraged to come to the library to check out books for this reading period. We have over 16,000 items to choose from! See the teacher librarian for suggested titles.
Library Orientation
Click below for a presentation about your library's services and policies.
School Supplies sold at the SV Library
$ .10 /page - black & white photocopies or computer print outs
$ .25 /page - color computer print outs
$ .25 each - pencils or pens (black,blue,red)
$ .50 each - glue sticks
$. 50 each - half a poster board
$1.00 each - 22" x 28" poster board
$1.00 each - pocket folder; index cards; or highlighters
$1.00 each service - laminate 8.5"x11"; or comb bind project
$2.00 each - notebook dividers; ear buds; colored pencils; or spiral notebook
$3.00 each - ream of notebook lined paper; or safety scissors
$4.00 each - 2" three ring binder; or composition notebook
$10.00 each - flash drives (memory sticks)
Library Contests
8th Grade Poster Contest
All 8th grade students participate in the annual 8th Grade Poster Contest during the fall semester.  For the year 2020-2021 only, students will be doing their work on 8.5 x 11" plain sheet of paper.
Please click
HERE
  for a video explaining the rules, plus tips and suggestions for creating a winning poster.
The finalists' posters will be displayed in the SV Library for a year, and for a limited time, at the Canyon Country Public Library. The top winners receive gift cards to Barnes & Noble.  Honorable Mentions receive a goodie bag of prizes provided by our ASB.
Congratulations to the winners of the 26th Annual 8th grade poster contest for the 2020-2021 school year! Students earning an Honorable Mention are Kiana Funakoshi for her depiction of the book "Doll Bones", Madison Templeman for "Love, Stargirl", Anju Telang for "The Giver", Emily Ruiz for "Restart", and Nicholas Sawyer for "Loser."  The 3rd Runner-up for the book "The Phantom Tollbooth" is Jeriah Esquivel, 2nd Runner-up for the book "Renegades" is Sofia Allard, 1st Runner-up for the book "The Hobbit" is Jordan Newport, and the Grand Prize & Student Choice winner for the poster of the book "The Inn Between" is Eileen Lopez. See her winning design and other top posters below.  
The other top finalists were Chase Tobey, Carly Moody, Mya Upshaw, Noor Elmikawy, Natalie Be, Sabastian Nevarez, Cristian Vega, Joshua Lemos, Millie Chacone, Ruby Salazar, Anthony Uribe, Zoe Brown, Wendy Apolinar, Chloe Miller, Julia Andrada, Jonevan Limpus, Miranda Puerto, Karina Lopez, Mary Audish, Jassmine Enamorado, Camara Campbell Hall, Reese Shaughnessy, Kaitlyn Morales, Raiden Renzo Enriquez, Noah McLaughlin, Kaitlyn Crawford, Vaughan Osahon, Gabriel Villalobos, Yoselin Hernandez, Hanne Jones, and Scarlett Varela.
7th Grade 23rd Annual Bookmark Contest, Spring 2021
All 7th grade students participate in the annual Bookmark Contest during the spring semester.  The top 25 finalists' designs are on display at the library.  The top five winning bookmark designs are printed and distributed to our students.  These winners and the Honorable Mentions receive gift certificates to Barnes and Noble.  Click on this link to start the orientation video.  Click below for a print copy of the rules or the bookmark template for the assignment.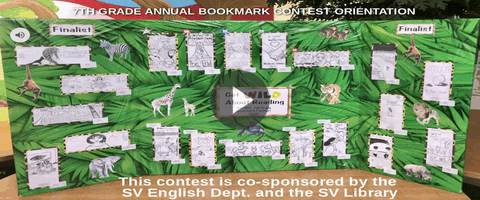 Congratulations to the winners of the 2020 7th Grade Bookmark Contest. This is the 22nd anniversary of this annual event. In first place is Nayomee Espinoza for her depiction of the book "The Serpent's Shadow"; second place is Chloe Miller for "The End"; third place is Erik Estrada for "The Dumbest Idea Ever"; fourth place is Jazlene Herreres for "A Walk to Remember"; and fifth place is Amber Aroni for "Awkward." The five honorable mentions are Jeriah Esquivel, Joanna Rosas Perez, Jorgia Horwedel, Michael Sadauskas, and Madison Templeman. The other ten finalists are Emily Ruiz, Lanie Rafkind, Alyssa Pham, Francis Greene, Adrian Bacha, Hanne Jones, Maile Mallari Hernandez, Karina Lopez, Damian Lazzo, and Miranda Puerto. See the display board below for a look at all of the students' wonderful designs and Nayomee's 1st Place Bookmark!